Unfortunately due to the Coronavirus all clubs have had to suspend their live mahjong activities. To ensure that everyone is getting their mahjong fix, we're hosting an Online team league based on Japan's M-League.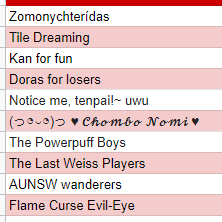 The following teams consisting of 3-5 players will play a total of 36 hanchan each across 9 weeks on Tenhou and MahjongSoul. The top 4 players will participate in a finals series with the top 2 teams winning prizes (Amazon gift cards / Tenhou premium) for each team member.
SBT101 and Jaycakes88 will be streaming games weekly on Saturday and Sunday evenings. Please come watch our streams which will be hosted on your Youtube channel:
https://www.youtube.com/channel/UC3CN-qfBFH_8W1rv3_B-zGA/featured 
If you are interested in participating in events like our online league in the future feel free to find us on Discord (link is on menu on the right).